On the home page it clearly states $2.99 minimum to get the bundle but when im trying to buy it the minimum is $3.74?? why is that?
Edit: and both on the Home page and purchase page it state 96% off
Edit 2: Just noticed that its Happy Hour but still doesn't make sense why people have to pay more during that time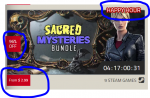 Edit 3: Tried to buy it now but when i click on Credit Card for payment option it jumps to the Home Page while i had no problem getting past that point with other bundles , its this bundle completely broken???
Last edited: